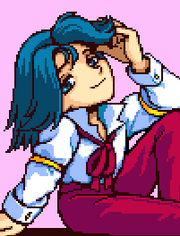 Jack is the beautiful and strongest player in Puzzle Bobble 3dx. He uses an attack of block and star bubbles, which makes him extremely difficult to beat in battle.
Jack found himself in Bubbleworld one day after being magicially transported by the Magical Master of Mischief, Dreg. She fights to find her way home.
Jack is an expert card player.