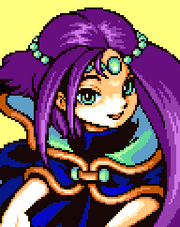 Luna is a gypsy fortune teller and a witch. She appeared in Puzzle Bobble 3dx as a playable character but was also in Puzzle Bobble 4 in Tarot Puzzle mode as a voice over.
Although not too much is known about Luna, it is an uncommon fact that she is in fact on good terms with Dreg, and they actually spend a lot of time together, despite appearing as his enemy to the general public. Her past is shrouded in mystery.
Luna is privately friendly with Dreg.