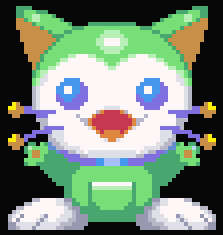 Packey is a clockwork cat, and one of Dreg's henchmen. He made his first appearance in Puzzle Bobble 2 and later went on to appear in Puzzle Bobble 4 as a secret.
Packy began working for Dreg in Puzzle Bobble 2 and was fairly dangerous in battle. He was the second round in the VS Computer mode on Normal difficulty setting.
Packy can remove his head at will. He can also fully rotate his head.
Packy is an unlockable character in Puzzle Bobble 4.